The 2017 Honda Ridgeline Is Innovating Cargo Space Inside and Out
Cargo Space in the Bed
Let's start with the innovations in the bed, where the Ridgeline is changing the way sports fans will celebrate the pre-game. The rest of the time, it offers more space with innovative design details for cargo. It's a perfect mix of fun and utility.
The Ridgeline bed was designed with minimal wheel well housings, so it's wide and flat and, like no other truck in its class, can even allow you to lay 4 x 8 sheets of plywood flat with the tailgate down. The surface of the bed is also redesigned and made of a fiber-reinforced SMC composite. This surface minimizes those white scratch marks and acts as a bed liner, so a separate liner isn't needed here.
The dual-action tailgate is another special detail. It allows you to swing the tailgate open from the side, or open it down in the traditional way. This versatility in the tailgate makes loading and unloading much easier.
The Ridgeline's box also features an industry-first in-bed 540-watt audio system. Knowing that traditional speakers mounted in the walls of a truck bed could be easily damaged by cargo or weather, this water-proof system instead uses six exciters inside the walls of the box. This ingenious technology will produce sound even if the bed is filled to the brim with dirt, mulch, or snow. So if you're working in the yard or tailgating at the game, you can listen to your favorite tunes or commentary straight from the box.
The Ridgeline also has a lockable trunk embedded in the floor of the bed. The trunk measures at 7.3 cubic feet and is a great place to store items you want to keep safe, locked, or out of sight. It also comes equipped with a drain plug, which means you can throw in wet clothes or items without worrying about cleanup, or fill it up with ice and your favorite drinks and make use of it as a built-in cooler.
To add more convenience to the mix, there is also a 400-watt AC power port in the wall of the box. This makes it easy to plug in power tools you're working with, charge up your devices, or even plug in a flat-screen TV while you're tailgating or kicking back.
Inside the Cabin
The bed of a pickup truck is usually the focus of conversations about cargo and storage, but in the Ridgeline, there is a lot to be said for what can be stored in the cabin as well. Inside is one of the roomiest crew cabs on the road. It can comfortably seat five adult passengers. Even in the rear seat, tall passengers will have plenty of legroom and headroom and, because of the design, there will still be plenty of storage and cargo space.
That's because the Ridgeline has under-seat storage that can accommodate a whole set of golf clubs, or other items that tuck safely away from passengers' feet in the back. And the 60/40-split lift-up rear seat can be configured for a number of different seating and cargo options to suit your cargo-versus passenger needs.
With the seats folded up, the space in the cabin is tall enough to carry a full-size mountain bike, and large enough to carry camping gear for a weekend getaway or that flat-screen TV that you're going to plug into the port in the box at the game.
Up front, the center console offers yet another storage space. It's deep and wide enough to hold a 10-inch tablet, and comes equipped with a power outlet inside so you can charge up the device.
More Features for Cargo and Towing
There are more features inside and outside the Ridgeline geared to help accommodate cargo and get you ready for towing. Some equipment you'll find include:
All-season floor mats help protect the original carpets from cargo, or dirt tracked in by shoes or pets.
Roof Rails with Crossbars are available so you can haul even more cargo up top, whether it's a surfboard, kayak, snowboard, or bikes.
A Multi-Angle Rearview Camera gives you three different views: wide, normal, and even top-down. Use it to help guide you into tight parking spots or to back up to a trailer hitch.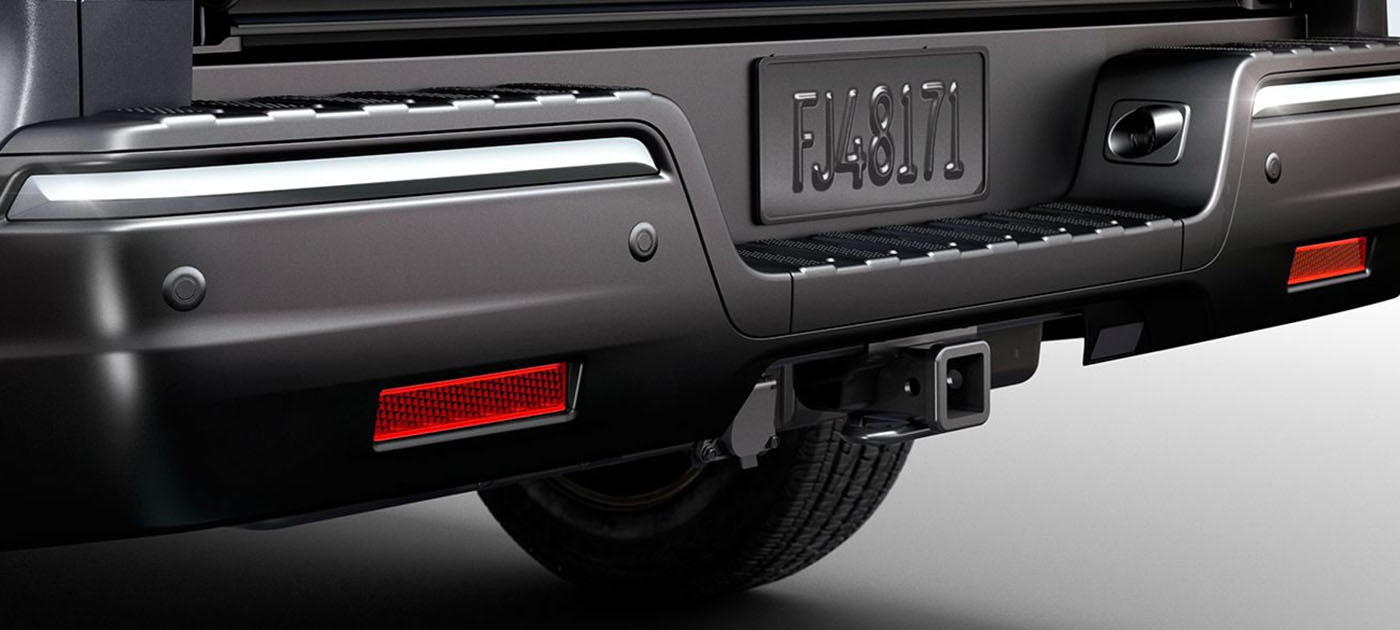 The AWD Ridgeline models comes equipped with integrated tow hitch with 7-pin connector as a standard feature. So you're ready to tow up to 5,000 pounds with 262 lb-ft of torque.