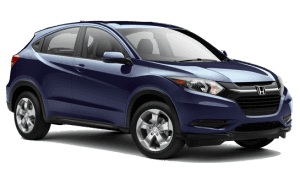 Metro Milwaukee drivers have often had good things to say about the vehicles made by Toyota, but this year, more and more folks are starting to realize that other manufacturers have even more to offer. Toyota has sought to make waves in the subcompact crossover segment by releasing the 2018 Toyota C-HR, but as far as the writers at Motor Trend are concerned, there's a lot that this new entry is lacking. In particular, the Toyota C-HR is completely without an all-wheel drive option, and this omission is particularly glaring in the competitive subcompact crossover market. Drivers who want a little more bang for their buck can opt instead for the 2017 Honda HR-V, which is both more affordable and better equipped than its competitor from Toyota.
The Honda HR-V vs. the Toyota C-HR
The 2WD 2018 Toyota C-HR is priced at $22,500 MSRP, but drivers can take home the 2017 Honda HR-V LX with AWD for just $21,565 MSRP*! This may not seem like a big price difference, but when one considers the capabilities that distinguish the HR-V from its lackluster competitor, it's easy to see why so many are impressed with the Honda's affordability.
Furthermore, even if you were willing to pay extra for AWD in the Toyota C-HR, you'd be out of luck; AWD isn't even offered as an upgrade here! Numerous other advantages distinguish the HR-V from the C-HR, including a 60/40-split rear seatback, underseat storage, a CD player, and an MP3 player. Moreover, the HR-V wins out over the C-HR in terms of cargo volume and overall passenger space. There's no denying that the Honda is a better option for drivers with families.
Don't Miss Your Chance!
Get ready to triumph over this year's winter storms by passing over the 2018 Toyota C-HR and choosing the 2017 Honda HR-V AWD. Explore our local Metro Milwaukee Honda Dealers for current offers and financing options, and then come by for a test drive. Reach out to us today to find out how you can own the subcompact crossover that you deserve.