Performance of the 2019 Honda Pilot
Honda Pilot Horsepower, Handling, and All-Wheel Drive
| | | | | |
| --- | --- | --- | --- | --- |
| | Horsepower | Torque | Ground Clearance | Towing Capacity |
| 2019 Honda Pilot | 280 HP | 262 lb.-ft | 7.3 inches (unladen) | 3500 lbs. 2WD / 5000 lbs. AWD |
There isn't much that can slow the 2019 Honda Pilot down. The Pilot's impressive horsepower and torque ratings, combined with its ample ground clearance and towing capacity, make it as versatile and dependable as any vehicle on the road today! It's also important to note that Honda's engineers have made all-wheel drive available on every trim. The latter isn't the only standard feature that allows the Pilot to deliver an unforgettable touring experience.
Intelligent Variable Torque Management AWD: All-Wheel Drive can help you conquer any terrain! The Pilot's Intelligent Variable Torque Management automatically directs your engine's power to the points where it's most needed—and it also improves the Honda Pilot's towing capacity. Intelligent Traction Control comes standard on the EX trim and up, and with AWD, it maximizes your control in the sand, the mud, and the snow.
Active Control Engine Mount System: Unpleasant engine shake has been the bane of many SUV drivers over the years. The Pilot offers an Active Control Engine Mount System and Automatic Noise Cancellation in every trim, guaranteeing a stable, silent ride.
Suspension, Tires, and Wheels: Every Pilot has been equipped with MacPherson Strut Front Suspension, Multi-Link Rear Suspension, 18 or 20-Inch Alloy Wheels, and All-Season Tires. Together, these features let you enjoy superior control every time you get behind the wheel.
Vehicle Stability Assist: Vehicle Stability Assist was designed to help you retain traction on all four wheels when you're taking a sharp turn or going around a curve. It slows the rate at which your inside wheels turn in order to ensure smoother handling and cornering.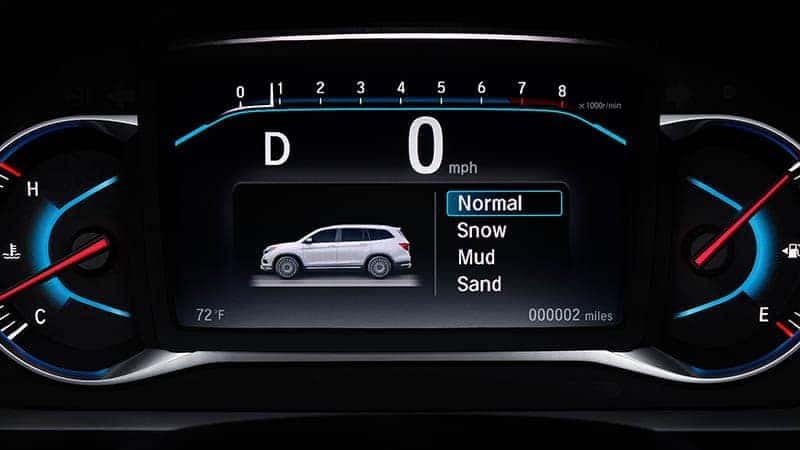 Honda Pilot Fuel Economy
| | | |
| --- | --- | --- |
| | 6-Speed Automatic Transmission | 9-Speed Automatic Transmission |
| 2019 Honda Pilot 2WD | 19 mpg City / 27 mpg Highway / 22 mpg Combined* | 20 mpg City / 27 mpg Highway / 23 mpg Combined* |
| 2019 Honda Pilot AWD | 18 mpg City / 26 mpg Highway / 21 mpg Combined* | 19 mpg City / 26 mpg Highway / 22 mpg Combined* |
The Pilot may be a plus-sized three-row crossover SUV, but that doesn't mean that it's going to burn through the money you spend on gas. Although it's capable of carrying up to eight passengers, it is capable of achieving impressive fuel economy for its size! This is thanks in part to Honda's decision to include efficiency-boosting standard features on every trim—and the Pilot's offerings only get more impressive as you upgrade.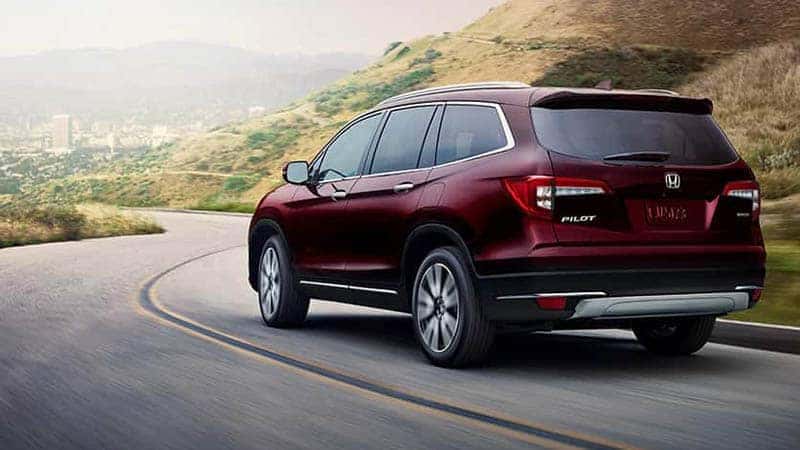 Variable Cylinder Management: Drivers tend to consume a lot of fuel when they accelerate, but once you've brought the Pilot up to a good cruising speed, Variable Cylinder Management kicks in to save you money. This feature deactivates part of the Pilot's engine when you're travelling on the highway, and reactivates them when you need to accelerate once more.
Idle Stop: Frequent starts and stops are the defining features of city driving. Conventional vehicles continue to burn fuel even when they're sitting at a standstill, but when you upgrade to the Touring trim or above, your Pilot's engine will disengage when you're not moving.
Eco Assist: Eco Assist technology was designed to help you drive the Pilot as it was meant to be driven! When you accelerate properly and give yourself plenty of time to brake, portions of your instrumentation will glow green to let you know that you're saving fuel. Blue lighting will be displayed when the system detects room for improvement.