The 2019 Honda Ridgeline is an innovative pickup truck unlike any other. Edmunds.com says, "the Ridgeline is a solid cargo hauler, inside and out." The Ridgeline is the only pickup option that "holds 4-foot-wide plywood sheets." With a car-like ride quality that doesn't skimp out on utility, the Ridgeline is ready for any tough job.
Towing Capacity
The towing capacity of the Ridgeline will vary depending on whether 2WD or AWD is right for you. Attempting to tow a load that exceeds your vehicle's limits is extremely dangerous and detrimental to the mechanics of your vehicle so for drivers who need to tow larger loads, consider opting for AWD which can tow up to 5,000 lbs. But for drivers who need to tow lightweight trailers, teardrop campers, and the like, the 2WD configuration can tow up to 3,500 lbs.
2WD: 3,500 lbs.
AWD: 5,000 lbs.
Payload by Trim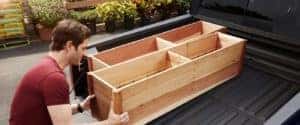 The Ridgeline features a unique truck bed design with a flat cargo floor and is able to accommodate sheets of plywood that are up to 4-feet-wide. The payload rating will depend on which trim level is right for you, as well as which drivetrain configuration. For drivers who need to transport heavier loads, consider the Sport trim with AWD.
2WD / AWD
RT – 1,465 lbs. / NA
Sport – 1,465 lbs. / 1,580 lbs.
RTL – 1,452 lbs. / 1,569 lbs.
RTL-T – 1,447 lbs. / 1,562 lbs.
RTL-E – NA / 1,499 lbs.
Black Edition – NA / 1,499 lbs.
Cargo and Storage Options
In addition to the truck bed, the Ridgeline has more cargo and storage options for smaller items. The bed features a lockable trunk that measures at 7.3 cubic feet and is ideal for storing things you want to keep safely out of sight. It also comes equipped with a drain plug, making it perfect to store wet or damp items or even double as an ice chest. Inside the cabin, drivers will find even more storage options including a center console that keeps your devices and other items organized and within easy reach.
Lockable in-bed trunk
Multi-Functional Center Console Storage
Lockable Glove Compartment
Beverage Holders
Driver's and Front Passenger's Seat back Pockets
Sunglasses Holder
Test Drive Today
Find out more information on the 2019 Honda Ridgeline by contacting us or visiting your nearest Metro Milwaukee Honda Dealer. Explore current offers and experience the Ridgeline firsthand with a test drive today.