The Honda CR-V is currently ranked 1st among Compact SUVs, Crossover SUVs, and SUVs with 2 Rows by U.S. News and World Report. It's America's best-selling crossover of the past two decades, and it's finally getting a hybrid model to let drivers enjoy everything that made the conventional CR-V so popular as well as outstanding forward-thinking efficiency scores.
Read on to explore:
Honda CR-V Hybrid Powertrain
Honda CR-V Hybrid Design
Honda CR-V Hybrid Powertrain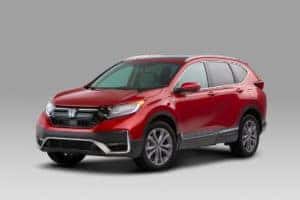 The 2020 CR-V Hybrid will be the first electrified SUV from the Honda brand in America, and it uses a Two-Motor hybrid electric system similar to the current Honda Accord Hybrid. The system combines two electric motors with a 2.0L 16-valve DOHC Atkinson cycle engine boasting greater than 40 percent thermal efficiency.
It operates without a conventional automatic transmission and uses an Intelligent Power Unit (IPU) to expertly distribute power between all four wheels. Total system horsepower is 212, and we're told to expect an impressive 50% increase in EPA city fuel economy rating compared to the CR-V.
The CR-V Hybrid will also mark the first application of AWD to the two-motor hybrid system within the U.S., so capability should be as impressive as efficiency. If you're not interested in a hybrid model, you'll still be pleased to hear that all non-hybrid CR-V models are now powered by the 1.5-liter VTEC™ Turbo engine.
Honda CR-V Hybrid Design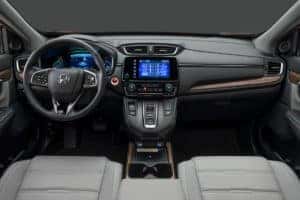 The CR-V Hybrid will set itself apart visually with hybrid badging and a distinctive blue Honda logo on the grill. CR-V Hybrid Touring models will receive a unique rear bumper, and all models will boast a hidden tailpipe.
Like the non-hybrid lineup, the CR-V Hybrid brings updated styling compared to 2019 models for a bolder, more athletic appearance. You can even choose from three new colors:
Sonic Gray Pearl
Radiant Red Metallic
Aegean Blue Metallic (Non-Hybrid Only)
Find Out More About 2020 Honda CR-V Changes at Your Local Showroom
Whether you want to explore Honda hybrid models or hear about our latest special offers, the team at your Greater Milwaukee Honda Dealers will be happy to help. For any further advice or assistance, feel free to contact us today.