The Best Eco-Friendly Cars for College Graduates
Published: 06-19-2023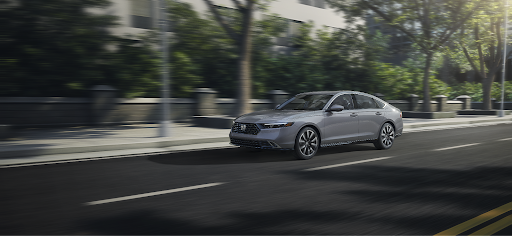 For some college graduates in Milwaukee, how environmentally friendly their car is can be an important buying factor. Honda offers a range of eco-friendly vehicles that combine sustainability, affordability, and reliability. Here are some top Honda models that stand out as excellent choices for the eco-conscious:
Honda CR-V Hybrid: As a compact SUV, the Honda CR-V Hybrid combines eco-friendliness with reliability. The CR-V Hybrid delivers improved fuel efficiency without compromising on performance or cargo space. It offers a comfortable interior, along with a host of standard advanced safety features. The CR-V Hybrid is a great option for graduates who want the capability of an SUV plus the benefit of environmental sustainability.
Honda Accord Hybrid: The Honda Accord Hybrid combines a gasoline engine with an electric motor to deliver excellent fuel efficiency and reduced emissions. It offers a comfortable and spacious interior, advanced safety features, and a smooth driving experience. The Accord Hybrid provides a balance between performance and eco-friendliness, making it a popular choice among environmentally conscious drivers.
For those who are looking for more traditional yet still conscious cars, Honda offers a few gas-powered options as well.
Honda Civic: For a gas-powered car, the Honda Civic offers excellent gas mileage. The latest generation of the Civic model incorporates Honda's most advanced technology, such as direct fuel injection and continuously variable transmission (CVT), which contribute to its fuel efficiency. Honda has been committed to reducing the environmental impact of their vehicles, and the Civic often meets or exceeds emissions standards, making it a greener choice compared to other non-hybrid vehicles in its class.
Honda Accord: The Accord offers a range of features and technologies that contribute to its eco-friendliness. The Accord incorporates sustainability features, like Honda's Eco Assist System, which helps drivers optimize fuel efficiency, making it one of Honda's more eco-friendly gas models.
Honda Graduate Program*
Recent college graduates can get an additional $500 toward a new Honda car by taking advantage of the Honda Graduate Program, a program that gives qualifying graduates up to $500 toward their down payment.
Visit Greater Milwaukee Honda Dealers Today
Stop into your local Greater Milwaukee Honda Dealers today to learn more about Honda's Graduate Program, and get behind the wheel of a new Honda today!
*Get $500 toward any 2023 or newer Honda. Offer expires 4/1/2024. For well-qualified customers who meet Honda Graduate Program criteria, subject to approval by Honda Financial Services (HFS). Only one $500 Honda College Graduate offer per vehicle. $500 towards Cap Cost Reduction or Down Payment Assistance with the lease or purchase of a new and not previously reported sold Honda vehicle. Offer cannot be combined with Zero Due at Signing Lease Program. Offer applies to eligible college graduates who have graduated within the past two years or will graduate within the next six months with a master's, bachelor's or associate's degree from a U.S.-accredited college or registered nursing school. Offer may be terminated at any time.