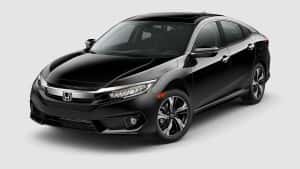 Finding a compact car that can satisfy all of one's needs is no easy task, but drivers in the Metro Milwaukee area can find everything they're after with a little help from Cars.com. This year, in their effort to find the Best Compact Cars of 2017, the reviewers focused on a variety of criteria important to drivers who gravitate toward affordable, efficient compact cars. All of the vehicles in this competition cost less than $23,000 MSRP, get at least 31 mpg, and provide no less than 91 cubic feet of interior volume. Ultimately, it should come as little surprise that the 2017 Honda Civic quickly distinguished itself from its competitors and made its way to the front of the pack. Find out what sets the Civic apart by reading on below!
The 2017 Honda Civic
The 2017 Honda Civic may be small, but it's nothing if not mighty. The reviewers at Cars.com have highlighted this vehicle's drivability, storage space, interior quality, and overall value, and we're hard pressed to disagree with their assessments. The Civic Sedan offers remarkably consistent (and exciting) performance, and it also comes equipped with some of this year's most desirable technology features. The Civic is available in five different trim levels, and what's more, it's just been made available in new Coupe and Hatchback designs! On top of all this, the 2017 Civic comes equipped with all of the safety features that Metro Milwaukee drivers have come to expect from Honda cars, and that means this compact vehicle leaves almost nothing to be desired! If the reviewers at Cars.com are to be believed, no other car in the Civic's segment comes close to offering comparable value for the price.
Take a Honda Civic for a Test Drive!
Take the 2017 Honda Civic for a test drive at your local Metro Milwaukee Honda Dealer, and be sure to check out our current offers and finance options! Curious drivers can use our contact page to start a conversation with one of our experts today! You'll be glad that you chose to get behind the wheel of 2017's Best Compact Car.