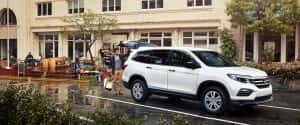 High-quality, efficient, family-friendly, and affordable vehicles are something that drivers can always count on with Honda. They can also trust that each vehicle will be equipped with innovative features, ample space for passengers and their cargo, and much more. With this kind of track record, it's easy to see why U.S. News and World Report named four Honda vehicles as 2017 Best Cars for Families.* Keep reading to learn more about which vehicles won and why—and then visit a Metro Milwaukee Honda Dealer near you to explore them in person.
Ranking System
Before we jump into the winners, it's important to note how the ranking takes place and what helps to determine which vehicles become winners. For the 2017 Best Cars for Families category, U.S. News and World Report took into account safety ratings, available features, passenger space and cargo volume, and professional automobile reviews. After checking all of these for the 211 competing vehicles, the ones with the highest composite scores in each class were awarded the title. This ranking method ensures that consumers can trust the winners have earned their spots.
The Stars of the Show
The 2017 models of the Honda CR-V, Honda HR-V, Honda Pilot, and Honda Odyssey were all winners in their respective classes for the 2017 Best Cars for Families title. The CR-V and HR-V were noted for offering the most available cargo space in the compact SUV and subcompact SUV classes, respectively. As this is something families normally consider when car shopping, it's an important quality indeed. The Pilot was commended for its amazing crash test scores and safety and security features, as well as its available capacity for cargo and passengers. For the seventh year in a row, the Odyssey also took a win in the minivan class, continuing its legacy of providing families with just what they want in a family vehicle.
Discover More with Honda
With so much to offer you, your friends, and your family, there's no better reason to invest in one of Honda's many great vehicles today. Come down to test drive some of these great vehicles at Metro Milwaukee Honda Dealers or call us to learn more about current specials we're running and more.