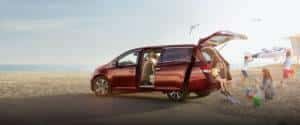 Honda vehicles have a reputation for keeping drivers and their passengers satisfied with great performance, high mileage, and innovative features. Consumers haven't been the only ones to notice how well-crafted Honda vehicles are. In fact, Kelley Blue Book has named the 2017 models of the Honda CR-V, HR-V, Pilot, and Odyssey the Best Family Cars of 2017* for their respective segments. Learn more about what it takes to get this award and what makes these Honda vehicles so worthy of it.
Judging Criteria
Kelley Blue Book doesn't simply go down a list of all of the year's vehicles picking and choosing the ones they think sound cool. No, there's a process behind finding and naming winners for each category. For the category of Best Family Cars, the vehicles are determined based on each vehicle's safety, value, reputation, driving manners, comfort and convenience, cargo versatility, child seat compatibility, and technology. These are all judged by Kelley Blue Book editors over a two-week period in which they take the time to judge each vehicle's capabilities in these areas. With a process as thorough as this one, it isn't easy to win, which is why it says a lot about the Honda brand for winning this achievement for not one, but four vehicles.
The Winners
We can't just tell you how amazing these vehicles are and leave you without an idea of what makes each one so well suited for taking care of families. Read on below for a quick peek at each vehicle.
Test Drive at Metro Milwaukee Honda Dealers
Learn more about these great vehicles, explore our special prices and deals, and take a test drive to find the right Honda model for you by visiting your local Metro Milwaukee Honda Dealers location today.