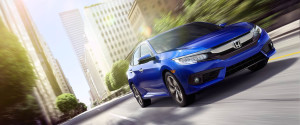 American buyers have spoken! In 2016, America's most popular car, SUV, and minivan were all Honda models. The Honda Civic, the Honda CR-V, and the Honda Odyssey offer performance and features that place them at the forefront of their respective segments, and it's plain to see that they've earned the respect of Metro Milwaukee drivers. For four straight years, Honda's reliable, fuel efficient, and spacious automobiles have dominated the competition, and all signs point to their continued success! Honda is growing more quickly than any other manufacturer in the nation!
Honda Leads the Pack
The Civic has been on the road for 44 years, and over that time, it's become the number-one-selling car among individual drivers! There are plenty of reasons for its popularity: No other car can match the combination of affordability, fuel economy, and standard features that you'll find in the Civic. 2017 is sure to be yet another great year for the Honda Civic, which is being released with new Si Coupe, Si Sedan, and Type R trim levels. Only the Honda Accord, which was the second best-selling car of 2016, comes close to matching the pull of the Civic. Accord sales grew for the fourth straight year.
Over the past 21 years, the CR-V has risen to become the best-selling SUV in America, and 2016 was its seventh straight year of significant sales gains! The Odyssey has topped minivan sales for no fewer than seven years, but the exceptional success shared by both of these versions won't stop Honda's engineers from driving technology forward. Like the 2017 Honda CR-V, the newly redesigned 2017 Honda Odyssey is soon to arrive at dealerships, and Milwaukee area drivers are already taking notice of their stunning offerings.
There's a Honda for Everyone!
More than a million Honda vehicles were driven away from dealerships in 2016, and this is the fourth year in a row that the most popular car, SUV, and minivan were all Honda-made. Thanks to the positive reviews of drivers just like you, even those who've never had the chance to drive a Honda were more likely to choose the Civic, the Accord, the CR-V, or the Odyssey over other similar options. Schedule a test drive in one of Honda's automobiles by visiting a Metro Milwaukee Honda Dealers location today!