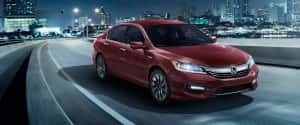 For the past few years, everyone has become much more conscious of the footprint that they leave on the Earth and how to make a more positive impact on the environment. These efforts take many forms, but one way that is having a major effect is the production of greener, more environmentally friendly vehicles. It's well known that Honda does a lot of things well, and this list gets longer as Honda vehicles become known as some of the most environmentally friendly vehicles on the market.
What Makes Them So Green
Plenty of testing goes into making sure that vehicles only emit reasonable levels of pollution into the air when driving, but the study that names various Honda vehicles among the greenest cars takes it a little bit further. The American Council for an Energy-Efficient Economy (ACEEE) performed a study that focused on testing fuel economy, emissions, air pollution, greenhouse gases, and other factors for each vehicle and assigned them a score based on this. This score can be anywhere from 0 to 100, with a higher number being the aim.
Through this testing method, two particular Honda models stood out among their peers. The 2017 Honda Accord Hybrid ranks in the top tier of the "Greenest Vehicles of 2017" list based on this testing method. The 2017 Honda CR-V with 2WD and a 1.5L turbocharged engine secures a spot in the second tier of the rating system, "Greener Choices 2017." These two vehicles stand out among those ranked, but many other Honda vehicles also found their way onto these prestigious lists for being environmentally friendly.
The Green Machines
You may now be wondering what you can expect from these vehicles and what specifications make them so friendly for the environment. Well, we're here to answer just that. The 2017 Honda Accord Hybrid offers drivers incredible fuel economy of an EPA-estimated 49 mpg in the city,* a powerful hybrid engine, and a low starting price. The 2017 Honda CR-V LX with 2WD and 1.5L turbocharged engine provides an EPA-estimated 32 mpg on the highway* and plenty of space for the whole family.
Test Drive These Green Vehicles
If you're looking to learn more about these great vehicles and how to get your very own for an affordable price, stop by your nearest Metro Milwaukee Honda Dealers location today for a test drive.