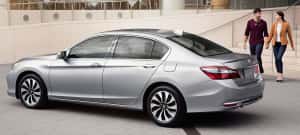 Hybrid cars are becoming more and more popular with drivers in the metropolitan Milwaukee area, but many folks still don't know how to separate the truly valuable hybrids from those that have been overhyped! Luckily for those drivers, one hybrid car is quickly showing itself to be head and shoulders above the rest! Although the 2017 Toyota Camry Hybrid has received some positive reviews, it can't really hold a candle to the 2017 Honda Accord Hybrid! Like all of Honda's Hybrid models, the 2017 Accord Hybrid offers incredible fuel economy ratings and drivetrain performance specifications that other manufacturers can't hope to match!
By the Numbers
The 2017 Toyota Camry Hybrid may not be able to live up to the standard set by the 2017 Honda Accord Hybrid, but that doesn't mean that the former is an unworthy competitor. In the city, the Camry Hybrid gets 42 mpg, while on the highway, it gets 38 mpg. In combined settings, the Camry gets a respectable 40 mpg. With that being said, the Accord Hybrid's much more impressive ratings put the Camry's achievements into context. This Honda gets an EPA-estimated 49 mpg city, 47 mpg highway, and 48 mpg combined*—giving you the freedom to take more adventures. What's more, the Accord Hybrid also benefits from a finely tuned powertrain that combines gasoline and electric power in order to provide seamless shifting and acceleration. Thanks to its innovative engineering, the Honda Accord Hybrid is able to net drivers 212 total system horsepower, while the Toyota Camry barely manages 200 hp.
Take the Accord Hybrid for a Test Drive!
Metro Milwaukee drivers don't have to settle for the 2017 Toyota Camry Hybrid. The 2017 Honda Accord Hybrid provides vastly superior fuel economy, and what's more, our current offers and finance options have made this incredible option more affordable than ever before! Stop in to take it for a test drive today! To take the next steps, visit one of our easy-to-reach Metro Milwaukee Honda Dealers locations, or use our contact page to start a conversation with one of our representatives.